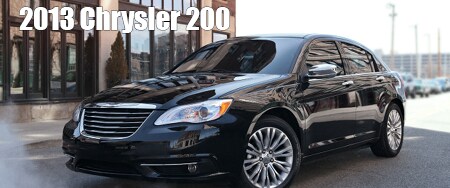 The Chrysler 200 is instock right now at Russ Darrow Chrysler in Madison.  The 2013 Chrysler 200 is a fun ride that has been long awaited by the residence of Madison and surrounding areas like Stoughton, Janesville, Middleton and the entire Dane County area.  The great suspension and improved steering make the Chrysler 200 worth every consideration.  And Russ Darrow Chrysler of Madison will steer you to the lowest prices on any 200 in the Dane County area.  This Chrysler 200 is one of the most affordable midsize cars on the market today.  Chrysler offers the 200 sedan with a 4-cylinder or v6 engines.  The 4-cylinder helps with fuel economy estimates of 21/29 MPG City/Highway. 
So many customers around Madison are happily driving the 200 and are experiencing the twisty, winding roads of Dane County with a sedan that ranks at the top of the class.  Russ Darrow Chrysler of Madison keeps a huge selection of Chrysler 200's because this midsize car is just that good.  Russ Darrow is conveniently located on Lancaster Dr. right by the heart of the state's capital, Madison.
Russ Darrow Chrysler offers the entire line up of Chryslers including Town & Country, 300 and, yes, the 200 Sedan and Convertible.  Nothing compares to driving a Chrysler other than driving a Chrysler you got the best deal on from Russ Darrow Chrysler of Madison.